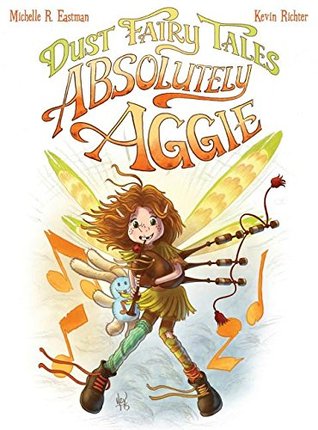 Dust Fairy Tales: Absolutely Aggie
Author, Michelle R. Eastman
Illustrator, Kevin Richter
Synopsis
Fairies, music, and dust! Oh my! Aggie is a little Dust Fairy with a big problem. She wants to join the fairy band, but they do not approve of her offbeat style. Aggie is determined to impress them, but that turns out to be harder than she imagined. Just when she thinks she will never find a way to fit in, Aggie discovers it might be more fun to stand out. Lively, rhyming stanzas and vibrant illustrations come together in this magical tale. It is sure to delight boys and girls alike, while imparting a positive message about embracing one's individuality.
Book Review
'Dust Fairy Tales: Absolutely Aggie' by author, Michelle R. Eastman, is another delightful read. This second book is, also, beautifully illustrated by Kevin Richter. Once again, Michelle R. Eastman has written a creative rhyming book, with lots of action, imagination, and magic.
This book tells the tale of an insecure fairy, who wants nothing more than to fit in. It is a great read for the young and the young at heart. I highly recommend 'Dust Fairy Tales: Absolutely Aggie.'
I received a free PDF copy from the author, in exchange for an honest review.
5 Stars
Kindle
Paperback
Hardcover