I am a professional and published writer. I write articles, short stories, and I am currently working on my first novel.
I have had four short story's published, in a variety of anthologies, during 2015:
The Magical Muse: A Collection of Fantasy Stories (DKC Contest Anthology Book 1)  
Stories of fantasy ranging from dark, to light and inspiring, bring life to this anthology. The creatures featured throughout, both good and evil, display the devastating or wonderful personalities they were given by the authors who created them for your enjoyment.
Alexis Lantgen brings a twist to the story of a fairy changeling, showing a dark evil intent behind this mythological practice.
Andrea R. Cooper turns a dark fantasy tale into a lyrical piece that tests your understanding of your own mind.
George L. Duncan features a creature many never saw coming as the source of justice in a corrupt world.
Dark fantasy takes a humorous twist with Oz Durose, who introduces us to a new type of zombie that makes you regret deleting the files off your very own computer…readers beware!
Mythological hounds are a foreshadowing of doom for one man seeking refuge from their deadly chase. Allison D. Reid brings a tale of adventure as seen through the eyes of the hounds and their mysterious master, born from the darkness of hell.
Demons lurking throughout this tale bring a monster into the world. A demi-god finds out her fate as KJ Hawkins spins a tale of triumph and fear.
Matthew Frassetti presses the will of a man trying to save his lover from the hands of a demon. The bonds of friendship between man and beast are tested as this tale of adventure takes a twist.
Brendan Carroll brings a brilliantly fun, entertaining story to life, showing how in the midst of everyday beauty, time simply passes when you least expect it.
Khushi Agarwal tests the power of Christmas cheer with elves on strike. Will Christmas come on time, or will it be ruined for all?
The holidays are here as D.B. Mauldin brings a hard working elf into the spotlight for a special Christmas festival.
Following is an excerpt from "Christmas Festival":
Santa asked the band to please take the stage and invited everyone to dance.  He reminded them to vote for their 'King' and 'Queen' and for their 'Prince' and 'Princess'. As the elves danced, some would wander off to the voting box and make their votes.
Before long, the dancing came to an end.  Santa reminded everyone this was their last chance to get their vote in.  There was more eating and conversing while the band rested and everyone finished their votes.
Gilraen and her friends huddled together wondering who would be chosen for 'Prince' and 'Princess'.
"I voted for you, Tarí," Gilraen whispered in her friend's ear.
"Oh, Gilraen, you shouldn't have.  I voted for Eámanë," Tarí whispered back.
"Well, personally, I think we all look gorgeous," said Lúthien
The four girls held hands as Santa took the stage again.  Gilraen felt butterflies in her stomach.
Read more at:
Kindle
Paperback
Smashwords: https://www.smashwords.com/books/view/533719
The Dragon Tempest: Tales of Fantasy & Adventure (DKC Contest Anthology Book 2)   
The Dragon Tempest offers a collection of short stories in a variety of fantasy genres, including dark, light, adventure, and epic. Creatures from all worlds abound: dragons, angels, centaurs, witches, gods and goddesses, and those lurking below the water's surface. Whether you're moved by tales of battle and bloodshed, suspense, humor, or enlightenment, The Dragon Tempest will leave you craving more from each author. Such a diversity of great fantasy tales to enjoy will leave no room for disappointment.
Judges:
Allison D. Reid
KJ Hawkins
D.B. Mauldin
Joshua Robertson
1st Place Winners
Christine King
Katie Roxberry
Winter Bayne
Jane Dougherty
Wilson F. Engel, III
2nd Place Winners
Christine Haggerty
Randall Lemon
Deborah Jean Anderson
J. Abram Barneck
Louise Findlay
3rd Place Winners
Samuel Milner
Karen Brown
I am honored to have two short stories published in "The Dragon's Tempest."
Following is an excerpt from, "Queen of the Faeries"
The concert had been great. Aine and Dorrian made their way backstage to try to get a glimpse of the band members. Aine had fallen 'head over heels in love with the band's bass guitar player, Iarl Fitzgerald. Dorrian rolled her eyes at Aine. She was always falling 'head over heels' in love with somebody.
"There he is!" exclaimed Aine. She grabbed Dorrian's arm and started leading her in Iarl's direction.
As if he had heard her, Iarl looked up, right at Aine. Their eyes locked and Iarl walked toward Aine, meeting her halfway. Aine let go of Dorrian's arm as she reached out to shake hands with Iarl.
"Hi! I am Aine. I just wanted to tell you that I love the way you play your bass guitar."
Iarl smiled. Aine's heart did a flip-flop; his smile made him even more gorgeous. He had a serious face, very cute, but serious. His shoulder-length, blonde curls framed his gorgeous face. His dark-green eyes were deep-set, giving him the overall appearance of a man who did not smile or laugh easily.
Still holding Aine's hand in his, he turned and led them to his dressing room. There were other people bustling about and Dorrian joined them. Iarl sat Aine down in a chair next to his. He turned to look at her, and spoke for the first time.
Following is an excerpt from, "The Elementals Save Mother Earth":
The ghost of Paracelsus roamed the earth. Never had he seen the earth in such a terrible state. The land was dry and ravaged by fire. Paracelsus knew the salamanders were thriving, but they were the only elemental to do so. Pollution inhabited the waters and air to the point that they were poisonous. They were losing the battle to help keep the earth livable for humans
Mother Earth had awoken Paracelsus.
"Paracelsus, I beg of you to arise from your resting place. I desperately need your help," she had said.
Paracelsus did as Mother Earth asked. He stood looking around the devastation, wondering where to start.
"The four elemental forces are going to have to work together to clean up this mess," Paracelsus muttered to himself.
Read more at:
Kindle
Paperback
Smashwords: https://www.smashwords.com/books/view/552304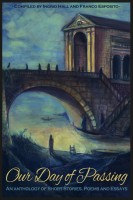 Our Day of Passing – An Anthology of Short Stories, Poems and Essays
Do you have a macabre fascination with death and the afterlife?
If so, then this anthology is definitely for you. While some see the subject of death as too morbid to contemplate, others such as the skilled writers that have contributed to this anthology, view it as the perfect subject to stimulate creative thinking. Much like 'love' and 'war', the topic of death has the ability to draw out some of the most thought-provoking pieces ever to fill a blank sheet of paper.
Our Day of Passing is formed from an eclectic and diverse mix of short stories, poems, fictions and essays. Contributions have been assembled from over 30 talented writers across the globe, each with their own fascinating interpretation of an event that comes to us all…eventually.
Written by Ingrid Hall, Franco Esposito, Dennis Higgins, Virginia Wright, Candida Spillard, Valeri Beers, Dada Vedaprajinananda, Strider Marcus Jones, Adam E. Morrison, Allyson Lima, D. B. Mauldin, David A. Slater, David King, Dee Thompson, Donald Illich, Edward Meiman, Eileen Hugo, Emily Olson, Joan McNerney, J.S. Little, Kin Asdi, Madison Meadows, Malobi Sinha, Marianne Szlyk, Mark Aspa, Mark David McClure, Megan Caito, Michael Brookes, Michael Burke, Pijush Kanti Deb, Prince Adewale Oreshade, Rafeeq O. McGiveron, Robin Reiss, Sasha Kasoff, Stephanie Buosi, Talia Haven
Whether they resonate with your own circumstances or provide new wisdom or something to ponder over, each of these carefully selected pieces will undoubtedly unlock a series of emotions within you. The anthology has been written in such a way that it can either be devoured or dipped in and out of as your emotions dictate. Either way, you can expect to feel a greater sense of self and enlightenment from reading it.
Following is an excerpt from my short story, "Clairvoyant":
"You haven't been, you know, seeing anything have you?" Bruce asked.
"Katie stared at him, felt the dizziness, but pushed it back.
"It's very strong and wants to come out, but I've kept it at bay so far," Katie replied.
"Good. Keep it that way and I will try to hold it back, so it will not be so strong. I don't want you to see until we are safely at your home."
"Are you saying you would like a reading from me?"
Bruce looked uncomfortable. "Why don't we just get out of here and walk and talk," Bruce said as he waved the waiter over and paid for their meal.
Watch this page for upcoming information on my first novel coming soon!
Visit me @:
https://www.facebook.com/AuthorD.B.Mauldin
Contact me: mauldinfamily1@yahoo.com